Thanks to our integration with Canva, you can design professional-grade artwork for your podcast or episodes right from your Libsyn account with Canva's easy-to-use design tools. Canva offers a large content library - from graphics, templates, icons, and more - to create engaging and beautiful designs that will attract new listeners to your show. Also, our integration with Canva generates artwork that is automatically optimized for podcasting, so you don't have to worry about getting the dimensions and resolution right every time.
Uploading designs from Canva doesn't count against your monthly storage, so it's a convenient way to change your episode artwork whenever you publish something new. You can set up a template for your episodes that you can update quickly each time you publish.
To use Canva, click Design Art with Canva on the right side of the page when you're setting up your podcast or when you're publishing an episode. In the Podcast Settings form, the button is above the Update Show Artwork section; in the Episode Details form, the button is beneath the Update Media section.
| | |
| --- | --- |
| Note | The first time you click Design Art with Canva, Canva asks you to sign up or log in. After you do so, the system remembers you. The next time you click the button, the Canva window opens and takes you straight to your designs without having to log in. |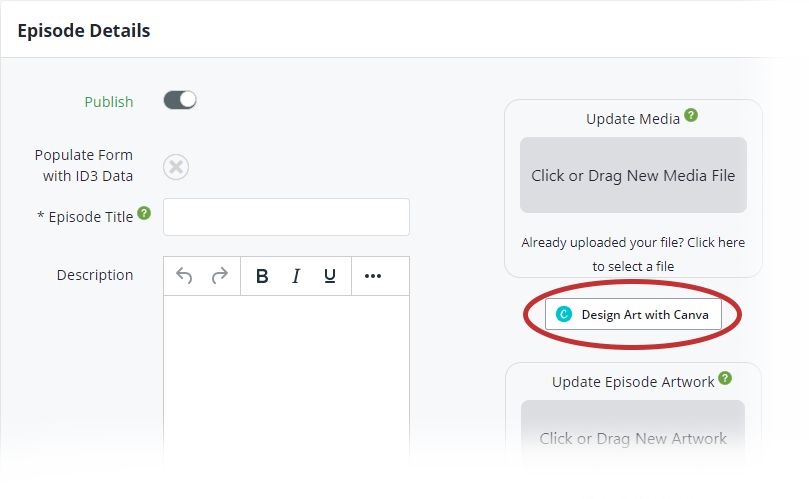 After you click Design Art with Canva, the Canva window opens. For an overview of how to use it, see the lettered list below in conjunction with the image beneath it.
| | |
| --- | --- |
| Note | The overview below is just a crash course. It's best to practice and experiment with the tools to get good at using them. If you have questions about Canva, click the icon on the bottom, right corner of the Canva window to see Canva's documentation for using their tools. |
| | |
| --- | --- |
| a. | The pane on the right contains your design. Click the different components you've added - such as text boxes or graphics - to edit words, colors, fonts, and more. When you click a certain component, options for editing it appear in a ribbon across the top of the pane. |
| b. | Click the title text and enter the name you want to give your design. |
| c. | Select the Templates tab to see the templates you can use for free. Templates are composed of components like text boxes, graphics, and more. Click a template to add it to your design and then edit it. |
| d. | Select the Elements tab to see the different kinds of elements you can add to your design, such as shapes, graphics, photos, frames, and more. Click an element to add it to your design. |
| e. | Select the Uploads tab to upload an image from your computer to use in your design. |
| f. | Select the Text tab to see different styles of text you can add to your design. Click an option in the list to add text in that style. |
| g. | Select the More tab to see other options for designing your artwork. When you click a new option, such as Styles, it appears as a new tab on the left that you can easily access to update your designs. |
| h. | When you're done designing your artwork, click Publish. Canva uploads your new artwork and it appears in the Update Show Artwork section if you're designing show artwork, or in the Update Episode Artwork section if you're designing episode artwork. The images you upload from Canva don't affect your monthly storage limits. So, if you notice a mistake after you create artwork, you can click Design Art with Canva again, make changes to your design, and then click Publish to reload your updated design - all without any of your updates counting against your monthly storage. |